Xorus Patchinko 100mm, 11g, Lures, Bass Lure Fishing, Top Water Surface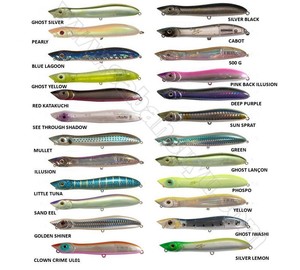 ---
The Patchinko is in our opinion one of the best surface lures for bass and have accounted for a lot of Bass throughout the UK. Slight twitches of the wrist on the retrieve will bring this lure to life. Two different size ball bearings give it a great sound for bringing fish up from depths and also annoying them to strike in shallow water. 
The Patchinko 100 is the smaller version of the very popular bigger Patchinko ll. Weighing in at only 11g but the aerodynamic shape and weight transfer makes this little surface lure fly out for its size. 
The smaller size allows it to be more subtle than it's bigger brother, ideal for calm conditions when Bass and other predators are easily spooked. 
The Patchinko 100 comes equipped with 2 top quality Decoy Y-W77 hooks.