VELCRO® Brand Sticky Back Hook and Loop Self Adhesive Stick On Fastener Tape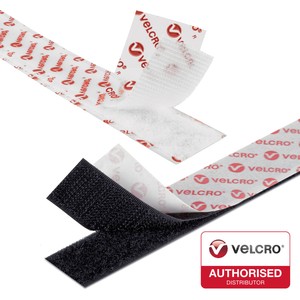 ---
VELCRO® Brand Self Adhesive Sticky Back Hook and Loop. Stick On Fastener Tape
Simply peel off the backing paper and apply.
Genuine VELCRO® Brand tape.
Both Hook and Loop parts are supplied in equal quantities to your selection.
Choose from widths 10mm, 20mm, 25mm and 50mm.
Choose either Black or White
Length options from 1/2 metre up to 25 metres.
Daily dispatch on all orders received before 2.30pm (Monday to Friday).
 PS14 has a rubber resin self adhesive pre-applied to the back of both the hook and loop sides. This VELCRO® Brand fastener tape can be used confidently on most smooth rigid surfaces.With reservation as bond strength will be limited the adhesive can be used on; Polyethylene, Polypropylene and Cardboard. The adhesive is not suitable for Vinyl, Rubber, Plastic (or any surface containing Plasticizers) or Fabrics. VELCRO® Brand fasteners with general purpose adhesive are recommended for smooth surfaces and for indoor use only, optimum strength is reached in 24 hours to form a permanent fix on all suitable substrates, simply peel off the release paper and apply. The tape should be left to reach room temperature for 12 hours before use and a full 24 hours after application before the first separation, we also recommend rounding each corner to avoid them becoming vulnerable during use. Application Instructions: 1. Clean and dry surface before application 2. Peel tape from fastener and press firmly into place 3. Adhesive reaches maximum strength after 24 hours VELCRO® is a registered trademark of Velcro BVBA. Used with permission. MDN Supplies Ltd are authorised UK Distributors.