Transfert de votre vinyl sur CD - Transfer / overbrenging van uw elpee LP op CD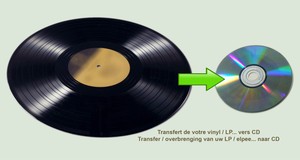 ---
U heeft een LP (elpee, vinyl) die voor u heel kostbaar is, hij heeft uw jeugd verrijkt en er hangen veel herinneringen aan vast… maar u zou het willen kunnen lezen op CD: overal bruikbaar, gemakkelijker, compacter, veiliger en vooral, geen risico meer om uw kostbare LP te beschadigen.
Ziehier de oplossing : u stuurt ons uw plaat toe die gekopieerd moet worden, wij kopiëren het voor u op CD-R, zonder kwaliteitsverlies natuurlijk.
Voorwaarde : kom de elpee bij voorkeur brengen en terughalen bij ons ; als u een Kiala- of Bpost zending wilt, maak een zorgvuldige verpakking (doos) die wij opnieuw kunnen gebruiken om uw LP met de CD terug te sturen.
De prijs is inclusief de levering van de CD-R.
Niet-rokershuis. Bekijk onze andere artikels, vergelijk en probeer uw aankopen te groeperen om alzo de transportkosten te beperken. Een manier om al onze artikels te bekijken is bijvoorbeeld op "uitgebreid zoeken" een sleutelwoord in te typen en bijna gans onderaan, als criteria onze naam - gredan*, gretaflor of danstal - te typen, zodat u onze artikels ziet verschijnen. Af te halen of transportkosten voor België via bpost of via Kiala : zie de tab « Verzending en Betaling ».
Vous avez un vinyl (LP ou autre) dont vous êtes inséparable, il a bercé votre jeunesse... mais vous voudriez pouvoir le lire sur CD : utilisable partout, plus facile, plus sûr et surtout, plus de risque d'abîmer le précieux vinyl.
Voici la solution : vous nous faites parvenir votre disque à copier, nous vous le transcrivons sur CD-R pour vous sans aucune perte de qualité bien entendu.
Condition : venez de préférence l'apporter et le reprendre chez nous ; si vous préférez un envoi Kiala ou Bpost, prévoyez un emballage soigneux (boîte) que nous pouvons réutiliser pour vous renvoyer le vinyl avec le CD.
Le prix inclut la fourniture du CD-R.
Maison non-fumeurs. Nous avons plusieurs articles à vendre, regardez, comparez et groupez vos achats pour ainsi réduire les frais de transport. Une façon de regarder tous nos articles est par exemple faire une "recherche approfondie" et de taper dans les critères, éventuellement un mot clef et presque tout en dessous, notre nom - gredan*, gretaflor ou danstal -, pour voir apparaître nos articles. A enlever ou frais de transport pour la Belgique via bpost ou via Kiala : voir l'onglet « livraison et paiements ».   Non-smoking house.  Please don't hesitate to ask us any questions about the other articles we have for sale. Compare and group your purchases to ensure reduced shipping costs. To display all our articles currently on sale, go to Advanced Search, enter a keyword and then scroll almost all the way down, choosing our name as your search criterion - gredan*, gretaflor or danstal, then press SEARCH. Please note that the listed shipping prices are for delivery to an address in Belgium. Please ask us about shipping costs to other countries before you bid. Naturally, you can save on shipping costs by coming to fetch your purchase directly from us. Nichtraucherhaus.  Schauen Sie sich ruhig unsere anderen Artikel an, indem Sie "Erweiterte Suche" wählen, einen treffenden Suchbegriff plus unseren Namen eingeben (gredan*, gretaflor oder danstal) und schließlich herunterscrollen und auf SUCHEN klicken. Vergleichen Sie die von uns angebotenen Artikel und gruppieren Sie Ihre Einkäufe, um die Versandkosten zu reduzieren. ACHTUNG ! Die angegebenen Preise gelten nur für den Versand innerhalb von Belgien. Für die Versandkosten nach anderen Ländern, wenden Sie sich bitte vorm Bieten an uns. Selbstverständlich vermeiden Sie jegliche Versandkosten, wenn Sie Ihre Artikel bei uns abholen (lassen).
Ref : IMG_4341 S