The Spiderwick Chronicles ◆ Hardcover Set Volumes 1, 2, 3, 4, 5 ✚ Storage Box 9780689040344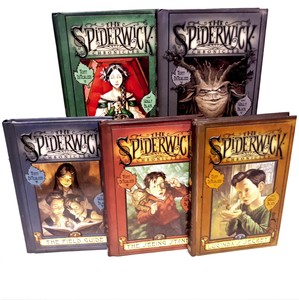 About this product
Synopsis
All five hardcover editions in the Spiderwick Chronicles--including The Wrath of Mulgarath, the fifth and final book--are packaged together in this beautiful and economical boxed set. It all started with a mysterious letter left at a tiny bookstore for authors Tony DiTerlizzi and Holly Black. Its closing lines: "We just want people to know about this. The stuff that has happened to us could happen to anyone." Little could they imagine the remarkable adventure that awaited them as they followed Jared, Simon, and Mallory Grace and a strange old book into a world filled with elves, goblins, dwarves, trolls, and a fantastical menagerie of other creatures. The oddest part is in entering that world, they didn't leave this one!Five captivating books!One thrilling adventure!The Spiderwick Chronicles
Product Identifiers
ISBN-10
0689040342
ISBN-13
9780689040344
eBay Product ID (ePID)
30983454
Key Details
Author
Holly Black, Tony DiTerlizzi
Number Of Pages
672 pages
Edition Description
Combined Volume (omnibus edition)
Series
The Spiderwick Chronicles
Format
Hardcover
Publication Date
2004-10-01
Language
English
Publisher
Simon & Schuster Books For Young Readers
Publication Year
2004
Additional Details
Copyright Date
2004
Illustrated
Yes
Dimensions
Weight
36.3 Oz
Height
3.2 In.
Width
4.5 In.
Length
6.8 In.
Target Audience
Group
Juvenile Audience
Grade From
Second Grade
Grade To
Sixth Grade
Age Range
7 - 11
Contributors
Illustrated by
Holly Black, Tony DiTerlizzi
Reviews
New York Times Book ReviewWith their evocative gothic-style pencil drawings and colorillustrations, rhyming riddles, supernatural lore, and well-drawncharacters, these books read like old-fashioned ripping yarns.