Fresh truffle Nadder Umbria 150gr Black Truffles Black Fresh Tuber uncinatum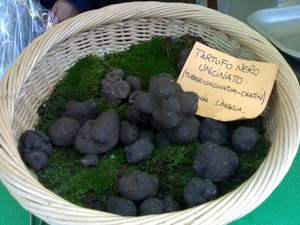 ---
             TARTUFO NERO UNCINATO FRESCO SELEZIONATO - Umbria                                   Pezzatura Fino a 12-15 gr.                                        TUBER UNCINATUM                                                             Quantità: 150gr. Spedizione: Corriere Espresso Provenienza: Umbria

Tartufo Uncinato Fresco selezionato, tubero di alta qualità dal sapore e ottimo da cucinare. Il Tartufo Uncinato che ti proponiamo viene cavato in zona e spedito in 24/48 ore, per garantirti la migliore freschezza possibile. Prova il Tartufo Uncinato Fresco con le Tagliatelle, le Fettuccine o i Risotti, ma anche con l'agnello arrosto e le uova. Il Tartufo verrà spedito in una vaschetta isotermica di polistirolo. Acquista da noi avrai tutta sicurezza di un feedback 100% Positivo! (EN) 

                      UNCINATO BLACK FRESH TRUFFLE SELECTED                                       TUBER UNCINATUM                                Truffle Weight: up to 12-15 gr.                                                                    Quantity: 150gr. Delivery: Express Origin: Italy (Umbria)

Its Name comes from Latin (Tuber) and denominates a type of subterranean mushroom that grows in symbiosis with tree species such as birch, hazel, oak. Truffles can be found only with the help of specially trained dogs or pigs, which have the ability to sniffle them out. Autumn in Umbria is the harvest season for the black Uncinato Truffle, particularly appreciated for its high quality and extremely pleasant flavour. All orderes truffles are exclusively locally picked and delivered within 24 hours. Serving suggestions: incredibly delicious grated on pasta, risotto and roasts..

(DE)                   FRISCHE SCHWARZE UNCINATO TRÜFFLE                                TUBER UNCINATUM                           Trüffelgewicht: bis 12-15 gr. Quantitaet: 150gr. Versand: Express Herkunft: Italien (Umbria)

Sein Name kommt aus lateinisch (Tuber) und bezeichnet einen unterirdischen Schlauchpilze der in Symbiose mit dem Eichbaum, Haselstrauch und der Birke wächst. Die Trüffel werden nur mit der Hilfe von Hunde oder Schweine gefunden, dank derer olfaktorischen Fähigkeit diese Art von Pilzen zu erschnüffeln. Herbst in Umbrien ist die Erntezeit der schwarzen Uncinato Trüffel die sehr geschätzt ist für seine höhe Qualität und das angenehme Aroma. Alle Trüffeln werden ausschlieslich in Umbrien geerntet und geliefert innerhalb 24 St. Wie wird es serviert: köstlich gerieben auf Pasta, Risotto und Braten.