HUMBROL Enamel 34 Blanc Mat – Matt White 14ml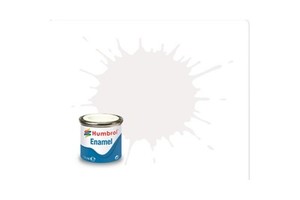 ---
HUMBROL Enamel 34 Blanc Mat – Matt White 14ml
UsagePeinture à séchage rapide, à base de solvent. Finitions mat, satin, brillant, métallique et métal brut disponibles. SupportsPrévue pour maquette en plastique, mais apposable sur une large gamme de supports : plastique, bois, verre, céramique, métal, carton. Il est préférable de toujours réaliser un test sur une petite partie avant application. RendementUn pot de 14ml permet de couvrir environ 0.3m2.  ApplicationAu pinceau, tel quel, ou à l'aérographe, diluée avec un thinner, de préférence celui de la marque.Deux fines couches sont préférables à une couche épaisse.Le rapport de diluant est habituellement de deux parts de peinture pour une part de diluant.Les peintures à finition Metal brut (metalcote) sont destinées à être poncées après applicaton.
POUR LES ENVOIS A DESTINATION DE LA BELGIQUE : Les frais de port sont combinés. Envoi par Bpost : 6 euros jusque 2 kilos, 8 euros au delà.
De verzendingsonkosten binnen België worden gecombineerd: 6 euro tot 2kg., 8 euro voor meer dan 2 kg.
POUR LES ENVOIS A DESTINATION DE LA FRANCE : Les frais de port sont combinés : le port plein pour l'objet le plus lourd, + 1 euro par objet supplémentaire, sans limite de poids ni de taille.
ABOUT INTERNATIONAL POSTAGE : I gladly post everywhere in the world. I'll combine postage in case of multiple purchases. You'll pay full postage on heaviest item, and price noted in additional postage for every one after the first. Insurance and tracking are not included for small parcels.