Bidirektionaler Handheld - Doppler Hadeco Bidop ES-100V3 @ Qualität aus JAPAN@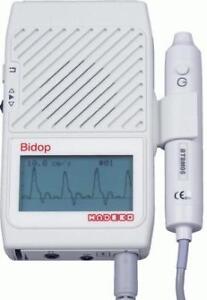 ---
Bidirektionaler Handheld-Doppler Hadeco Bidop ES-100V3
 
 

Neu! 

Bidirektionaler Handheld-Doppler mit LCD-Anzeige 

- Anzeige von Realzeit-Wellenform, numerischen Daten und Herzschlag Von Hadeco entwickelter Smart-Mikroprozessor.

- Ermöglicht vollautomatische Gain-Kontrolle und Anpassung der Nulllinie. 

Äußerst einfache Bedienung durch Kombination von Pendelschalter und Rücktaste. Speicher von 30 Wellenformen. 

USB-Computer-Interface

 - Übertragung von Wellenformen und numerischen Daten an einen Computer zwecks Speicherung. 

Die Software Smart-V-Link und das Verbindungskabel sind optional bei uns erhltlich 

Einfache Bedienung durch Pendelschalter, Rücktaste und Sondenknopfschalter.

 - Ermöglicht einfaches Auswählen des Modus und Einfrieren der Wellenform. 

 Sondenauswahl von 2, 4, 5, 8 und 10 MHz je nach Bedarf 

Optionale kleine PPG-Sonde.

- Erweiterte arterielle und venöse Untersuchungen. 

Klinische Anwendungen: - Periphere Gefäßuntersuchungen

Segmenteller Blutdruck der unteren Extremität

 Blutdruck der Zehen (PPG); Einschätzung des venösen Rückflusses (PPG)

Systolischer Druck des Penis; Fötaler Herzschlag (2 MHz) 

Spezifikationen:

Allgemein: - Stromversorgung: DC 9V, 9 V Alkalibatterie

 Lebensdauer der Batterie: Ca. 2,5Std. 

Ausschaltautomatik; Lautsprecherausgang: 200 mW oder mehr

 Multi- Frequenzen: 2, 4, 5, 8, 10 MHz

 Wellenform Speicher: 30 Wellenformen;

Modus Einstellungen: Speicher (speichern,lesen & clear), Richtung, Skala(Zeit und Einheit), Sprache, etc. 

Display: - 128×64 Punkte

 STN LCD; Wellenformen

 Numerische Daten & Herzschlag Ausgänge

 - Kopfhörer: schaltet die Lautsprecher aus

 Serial-Port: USB 

Sonstiges: - Abmessungen: 75 (B) x 140 (T) x 25 (H) mm

Gewicht: ca. 350 Gramm (inkl. Batterie & Sonde)

 Elektrische Sicherheit: Konform mit IEC 6060-1-1

 

 

 

New! Bidirectional handheld Doppler with LCD Display 

 Display of real-time waveform, numerical data and heartbeat by Hadeco developed Smart microprocessor

 Allows automatic gain control and adaptation de baseline. 

Very simple operation through the combination of pendulum switch and backspace. 30 waveform memory. 

USB Computer Interface

Transmission of waveforms and numeric data to a computer for storage.

 The Software Smart-V-Link and connecting cable are optional. 

Simple operation by pendulum switch, backspace button switch and probe

 - Allows easy selection of the mode and freeze the waveform. 

Versatile probe selection: - Probe selection of 2, 4, 5, 8 and 10 MHz as required

 Optional small PPG probe

 - Advanced arterial and venous studies. Clinical Applications

 - Peripheral vascular studies; segments Blood Pressure of the lower extremity

 blood pressure of the toes (PPG) assessment of venous return (PPG) Systolic pressure of the penis

 fetal heartbeat (2 MHz) 

Specifications: 

General: - Power supply: DC 9V, 9V alkaline battery, battery life: Approx. 2.5 hours Off, speaker output: 200 mW or more multi-frequencies: 2, 4, 5, 8, 10 MHz 

waveform memory: Waveforms 30; mode settings: Memory (store, read & clear), direction, scale (time unit) , language, etc. 

Display: - 128 × 64 dots, STN LCD, waveforms, numerical data and heartbeat Outputs

 - Headphones: Speaker cut off

 Serial port:USB Other

- Dimensions: 75 (W) x 140 (D) x 25 (H) mm 

Weight: 350 grams (including battery and probe),

Electrical Safety: Compliant with IEC 6060-1-1

 

 
 
 
 
 

International Buyers – Please Note: 

Import duties, taxes, and charges are not included in the item price or shipping cost. These charges are the buyer's responsibility.

Please check with your country's customs office to determine what these additional costs will be prior to bidding or buying.