A4,A5,DL/Trifold, Outdoor Leaflet Holders Waterproof Dispenser Exterior Display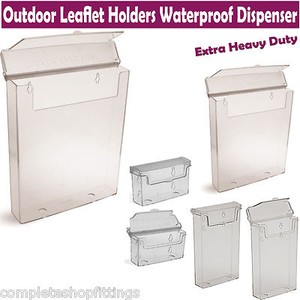 ---
Listing Template Welcome to Complete Shopfittings Store ! Add to Favourites Home New Arrivals Ending Soon Feedback Contact Us Categories ACRYLIC (780)Acrylic For Slatwall (780)Acrylic For Wall MountedFree Standing AcrylicBACKBAR & ACCESSORIES (35)CABLE WINDOW DISPLAY KIT (352)CARRIER BAGS & PACKAGING (2702)Garment Packaging BagsPaper BagsPlastic BagsCLEARANCE (7)CUSTOM FLOOR DISPLAY STAND (127)DISPLAY COUNTER (83)GAFFA TAPE & FRAGILE TAPE (23)GARMENT RAIL TUBING & ACC. (139)GARMENT RAILS & ACC. (612)GLASS DISPLAY (218)GRIDWALLGridwall AccessoriesGridwall Display SetsGridwall Legs & BasesGridwall PanelsHangersMetal HangersPlastic HangersWooden HangersJewelry Box & AccessoriesJewelry DisplayLabels & PosLabelsPosPrice GunsSale PostersSign DisplayTagging GunsLed Sign BoardsMannequinsDisplay HeadsHanging MannequinsLegsMarket Stall Sheets & Acc.Retail Clothes Display StandShopping And Bin BasketsSize Cube & Rail DividerSlatwallSlatboard AccessoriesSlatboard InsertsSlatboard PanelsSlatwall HooksSlatwall Storage BoxUpright AccessoriesWall Mounted Rail & Acc. OtherBrowse All (79) A4,A5,DL/Trifold, Outdoor Leaflet Holders Waterproof Dispenser Exterior Display Product Details A5 leaflets of width: 148mm, height 210mm.Overall leaflet holder width: 168mm, height: 220mm, depth: 44mm.A4 leaflets of width: 210mm, height 297mm.Overall leaflet holder width: 247mm, height: 320mm, depth: 48mm. Business Card Holder:-This neat outdoor business card holder comes with a hinged lid to help keep your business cards dry and in pristine condition.This weather resistant business card dispenser is ideal for fixing to any outdoor display or attaching to a vehicle.Promote your business or service by making business cards available for self-service by prospective customers outside your premises or on a company vehicle.This clear plastic dispenser can be attached by screws or cable ties (such fixings are readily available from any hardware store to suit your particular situation).DL/ Trifold:-Ideal for displaying brochures outdoors, this injection moulded clear plastic brochure box is made from weatherproof rigid material.The outdoor brochure dispenser resists water penetration having an integral lid. The hinged lid self-closes after your leaflet or flyer has been removed. Economical outdoor leaflet container will help keep brochures acceptably dry in most exterior situations. Drainage holes in underside allow water which penetrates or condensation to drain.DL size fits small leaflets 4" wide by 8" high (99mm x 210mm).Fixing holes in the back of the unit allow unit to be screwed or cable-tied onto posts or railings. (Screws/cable-ties not included). SHIPPING RETURNS PAYMENT ABOUT US

We AIM to get orders dispatched within 24 hours Monday-Friday, After we have confirmed payment, Please do allow us up to 2-4 working days for busy times, the delivery services.

We use are Royal Mail & All other major courier services. We send out emails once we have received confirmation from the warehouse. Delivery times can vary, depending on what you have selected.

We offer 14 days money back guarantee. If you are not happy with any of the item which you purchased from us. The item which you are returning should not be used and must be 'as new' with in original packaging, when returned to us. A 15% handling charge will be levied on all returned goods to cover our administration costs and also return delivery cost is paid by the buyer.

Exclusions; Please note this policy doesn't apply on items such as, Made to order, Slatwall, Counters and showcases, Cladding column… etc

Delivered Faulty; If the items are faulty when it's delivered, we ask that you report it to us within 3 working days in writing. Items should be returned in their original packaging complete with all accessories and documentation. Once we have verified the fault, we'll issue a replacement or full refund to you via your original payment method. But we will test returned items, and if a returned item is found not to be faulty, you will have to pay 15% handling charge will be levied on to cover our administration costs. And also all return delivery cost is paid for by the buyer.

We accept PayPal as the mode of payment.

Complete Retail Source Ltd is one of the UK's leading retail display & shop fittings solutions. With a vast range of Shelf products, retail display and tailored Custom Solutions, CRS Ltd provides a diverse range of customers with Quality, Practical Solutions. In the last decade.

We manufacture 60% of the 10,000+ products, we offer, with 40% sourced very selectively from domestic and overseas suppliers who have surpassed our rigorous quality expectations. We hand-pick these sourced vendors, determine their value products, and establish relationships with their US, European or Asian factories. Whether manufactured here by Complete Retail Source Ltd or inventoried from a preferred supplier, you can be sure we are closely monitoring all quality and packaging standards

With a true customer service focus and decades of experience, whether your needs are large or small, Complete Retail Source(CRS) Ltd is the one-stop-shop for all your Shop Fittings, Shelving and Display solutions.

Sign up to our Newsletter Click here to Subscribe to our Newsletter. Get the all latest News,Updates and Special Offers about OUR STORE. Subscribe Now Useful Links About Us Payment Shipping Returns New Arrivals Ending Soon Feedback Contact Us About US CompleteShopfittings is a well established family run business. We have been selling shopfittings and shop equipment for over a quarter of a century. We manufacture, retail and export all over the world and carry a huge ranger of shopfitting products. Copyright © 2019, THESFS LIMITED. All rights reserved.