5 Gallon Degassing Vacuum Chamber Lid 13" Diameter Polycarbonate Ready To Use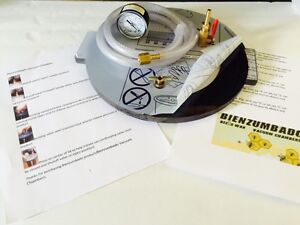 ---
You will get a brand new lid with masking film on top that needs to be removed to protect the lid from getting scratched during shipping process.
This lid fits most 5 gal pots or anything ranging from 10" to 12.75" diameter.
Please measure your pot or container before purchasing.
13 " diameter
Polycarbonate
Gauge in hg (0 to -30)
Seal
Shutoff valve
Barb connector
Burping valve
5 feet of tubing
1/4" barb adaptor included
USPS priority shipping free domestic shipping