2 New Remote Keyless Key fit for Ford Mazda Mercury 3 Button Transmitter Replace 732130921015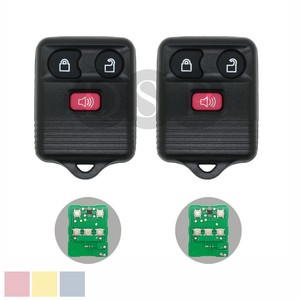 ---
 

Product Information

Here listed is 2 set of new  full set remote key  for you to own new additional keys. INCLUDE Remote chips

Please ensure your current remote key fits exactly the same as in the cover picture and the FCC ID is the same as one of the ID as below. 

FCC ID: CWTWB1U212 CWTWB1U331 GQ43VT11T  CWTWB1U345 1788A-FWB1U345 CAN 1470102326

The remote chip needs to be programmed. Free programming instructions.

Specifications

| | |
| --- | --- |
| Model | DA7001x2 |
| Type | Remote Key |
| FCC ID | CWTWB1U212 CWTWB1U331 GQ43VT11TCWTWB1U345 1788A-FWB1U345 CAN 1470102326 |
| Key Blank | N/A |
| Button | 3 Buttons |
| Remote Chip | Yes |
| Electronics | N/A |
| Battery | Not included |
| Adapted Car Model Reference | 1998-2014 FORD F-1501998-1999 FORD F-2501999-2014 FORD F-250 Super Duty1999-2014 FORD F-350 Super Duty1999-2014 FORD F-450 Super Duty2001-2011 FORD Escape1998-2006 FORD Expedition1998-2014 FORD Explorer2001-2005 FORD Explorer Sport Trac2000-2003 FORD Excursion2005-2007 FORD Five Hundred2008-2011 FORD Focus2003-2007 FORD Freestar2005-2007 FORD Freestyle2007-2009 FORD Mustang1998-2011 FORD Ranger1998-2007 FORD Taurus2002-2005 FORD Thunderbird1999-2003 FORD Windstar2005-2007 MERCURY Mariner2005-2007 MERCURY Mentego2003-2007 MERCURY Monterey1998-2001 MERCURY Mountaineer1998-1999 MERCURY Sable2001-2009 MAZDA B23001999-2001 MAZDA B25001998-2007 MAZDA B30001999-2009 MAZDA B40002001-2007 MAZDA TributeAnd some other key models with same specification |
| In the box | 2 x  New Replacement Keyless Entry Remote |

Contact Info
We offer discounts on  wholesale orders. Please contact us for the details.