10 - 1 oz. 999 Fine Silver Relic Bars - Old World Egyptian God Anubis Jackal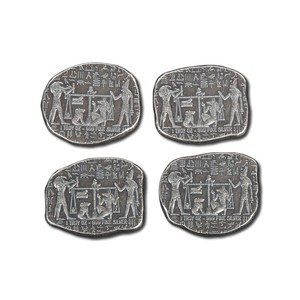 ---
Quality Precious Metals
10 - 1 oz. 999 Fine Silver Relic Bars
Old World Egyptian God Anubis Jackal
These are new bars which were purposely made
 to look like ancient stone relics chipped off the
side of a tomb. No two bars are exactly alike as
 they have been purposely hand struck off center
 and given an application of "antique" patina along
with an "anti-polish" to add to the look of old world charm.
Uncirculated
FAST FREE SHIPPING
You are buying 10 troy ozs. 999 Fine Silver Bullion
Quality Precious Metals is a division of
All Seasons Survival, Inc.
Buy with Confidence
19 years on
Check out my feedback and
see what others say about my service.
Please click on the "me" page and
learn more about our company.
Thank you for looking in my store.