1 pcs - 330uf 400v Nippon 105c electrolytic capacitors FREE SHIPPING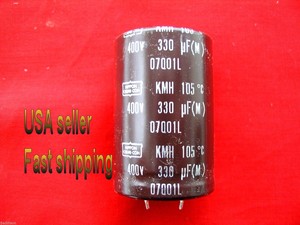 ---
1 pc of 330uf 400v electrolytic capacitors. Brand new stock.
*    Nippon Chemi-Con P/N KMH400VN331M30X45T2
*    30 mm diam X 45 mm long.  Snap in mounting 10 mm spacing
*    105c rating.  +-20% tolerance
Check out my Store for other capacitor values, voltages and quantities at below wholesale prices. Next day shipping. Combined shipping on multiple orders.